SPECTRUM SURVEY FIELD SOFTWARE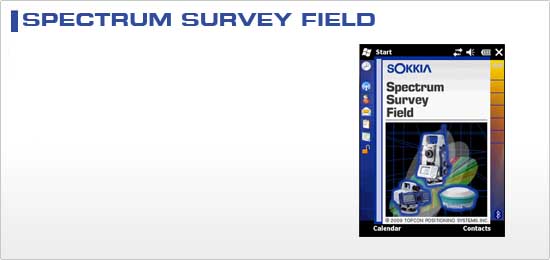 Sokkia's Spectrum Survey Field (SSF), it's a whole new experience from field-to-finish. From its super-efficient database engine to its near-universal exporting abilities. Spectrum Survey Field delivers the power to simplify and speed up your data collection and delivery.
Speed, GUI, and a feel for the road
SSF graphical user interface and intuitive operation are where the rubber meets the road. Icon driven, with no more than four clicks to get to any operation, helps you quickly negotiate the trickiest turns – both the controller and onboard. Real-time recomputation of recorded data puts an end to time-wasting pit stops.
Advanced Import/Export, Coding, and Setup
Stock or custom, SSF supports all major file formats and lets you visually create custom codes and ordering to ensure a perfect transfer every time. Its station offset and string list features bring added versatility and efficiency to setup and operation.
Features include :


| | |
| --- | --- |
| | Faster |
| | Icon-based GUI |
| | Intuitive, easy operation |
| | Advanced Import/Export |
| | COGO |
| | Advanced collection routines |
| | Point numbers displayed at actual map locations |
| | Windows Mobile 6.5 supported (compatible with SHC250 field controllers) |
| | Sokkia GRX1 Receiver with Digital UHF radios support |
| | Grid to Ground – Origin Point provides ability to manually enter a user defined scale factor |
| | Export to Sokkia SDR33 and many other file formats |
| | Most CAD feature coding formats can now be custom built for export |
| | Stake-out from pre-defined slope templates or user defined slope |



Modules Available :


Optical (TS)
Surveying with Sokkia optical instruments such as total stations and digital levels


Roading
Create & edit cross section templates, horizontal and vertical alignments, road & slope stakeout, and more

Robotic
Take control of your Sokkia robotic instrument, with complete support for all of the advanced features of our full robotic line-up! Includes automated surface scanning integrated with digital imaging

GPS
RTK setup and control is quick and easy with our Auto-Base and Auto-Rover routines. Allows complete integration of GPS and conventional surveying data! Unleash the full power and capability of your Sokkia GPS+ system

GIS
Advanced capabilities and data integration for GIS/Surveying Professional
Roading
With Roading module of SSF, you receive all of the powerful roading functions. Import alignments horizontal or vertical, or templates and cross sections. Spectrum Survey Field is ready for roading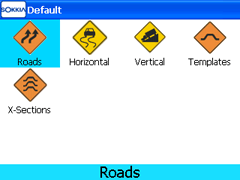 Linework and CAD Interoperability
Collecting linework in the field based on codes and strings speeds up your field and CAD time. Take advantage of these powerful linework options in Spectrum Survey Field. Export the collected data in many common linework formats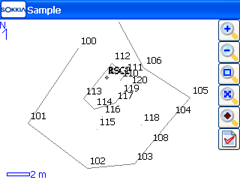 Export File Formats
Spectrum Survey Field is prepared to export many diffrent file formats of raw data, points, lines or surfaces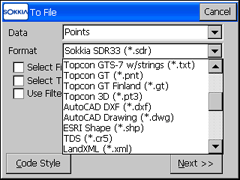 Switch from GPS to Total Station in a snap. Maintain one job file with both GPS and Total Station raw data. SSF has fast Mode change and Saved Configurations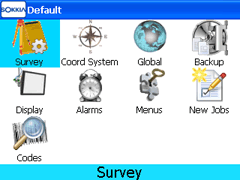 Survey
Perform basic point Topo or more advanced X-Section and Find Stationing. All of these methods and more are provided in Survey menu of Spectrum Survey Field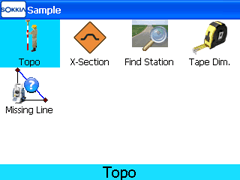 COGO
Varieties of coordinate geometry calculations are available in Spectrum Survey Field