SDL30/SDL50 DIGITAL LEVEL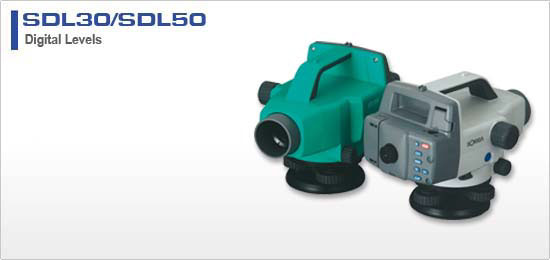 The SDL30/SDL50 is an accurate, dependable digital level that combines user-friendly convenience with unprecedented cost performance. Used with Sokkia's unique RAB-Code (RAndom Bi-directional Code) staff, measurement capabilities are greatly improved.
All the user has to do is aim the staff, adjust the focus, and then with a single touch of a key the SDL30/SDL50 accurately measures height and distance. The results are indicated digitally on an LCD display to make all kinds of leveling work performed quickly and easily.
Features :

High-Speed Measurement : Aim, focus and press a key. Height and distance asre simultaneously measured in 2.5 seconds, 20% faster than ordinary digital levels.
Consistent Performance : ADL30/SDL50 provides superior measurement capability under variety of environment conditions. Even when the staff surface is partially shaded, or brightness at staff surface is as low as 20 lux*, SDL30/SDL50 consistently provides reliable measurement results without downtime.*20 lux is the minimum brightness required to recognize human face.
Automatic Recognition of Inverted Staff : SDL30/SDL50 automatically recognizes directions of RAB-Code staffs and displays the results with a minus sign (-) when the staff is inverted.
Wave-and-Read Technology : Innovative "Wave-and-Read" technology provides an additional survey style option. SDL30/SDL50 tracks the RAB-Code staff waved back and forth to read the correct height. The least value of the staff readings is automatically detected.
Height Accuracy :
SDL30 : 0.4mm (BIS30A – Super-Invar) / 0.6mm (BIS20/30-Invar) / 1.0mm (BGS-Fiberglass)
SDL50 : 0.6mm (BIS30A – Super-Invar) / 0.8mm (BIS20/30-Invar) / 1.5mm (BGS-Fiberglass)